I must be honest with you, I wasn't sure what to expect from this band. I heard rumblings of them sounding like a trippy Queens of the Stone Age but a bit heavier, so I figured I would check them out. I went to their MySpace and saw that they had a few tracks posted. While listening I wasn't totally enthralled, but the album had some great fuzzy stoner rock qualities, getting quite heavy at times, and included some jazz elements for good measure. I have now been listening to this album for the past few days non-stop and suggest you do the same. Great stuff!!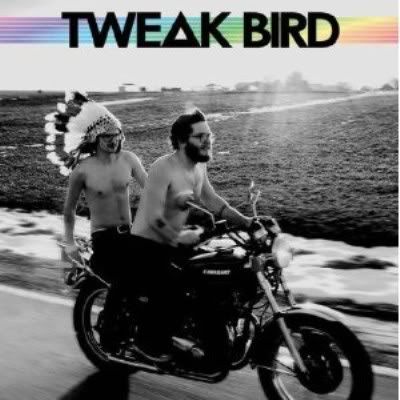 What others are saying:
"One of massive marijuana intake's side effects – short-term memory loss – has helped ensure that stoner rock has latterly come to resemble something of a played-out genre, outside a few notable exceptions not rehashing past glories. Nobody told perma-touring Illinois brothers Tweak Bird, though, whose self-titled debut full-length sticks hipster spectacles on the whole decibel-kissed shebang and takes it for a serotonin-stimulating joyride.
Accentuating the cheerier side of life while dispensing barnstorming riffs thick and surprisingly fast, baritone guitar-wielding Caleb Bird and drummer sibling Ashton essentially shoehorn the pop song format into something altogether heavier. And like a hippie-tripping take on Queens of the Stone Age before them, Tweak Bird are concerned with subjects far wider than stoner rock staples (read: cars, women, surfing, skating, smoking, drinking).
Helmed by production duo Deaf Nephews – aka Dale Crover and Toshi Kasai, respectively of sludgy west coast stoner purveyors the Melvins and Big Business – fans of those bands will find aural dot joining on Tweak Bird a fairly simple exercise. But the brothers are more interested in detonating an idea before moving onto the next, rather than aping various forerunners who let classic rock jamming excesses creep into proceedings. In fact, only two tunes here trouble the three-minute mark.
The Future inserts tongues in cheeks from the off, joyfully stating: "In our minds we are the chosen ones". And it probably shouldn't even take that long for the jigsaw pieces of their seriousness, or lack thereof, to fall into place. After all, the album cover features one motorbike, one blurred landscape, two bare chests and one native Indian headdress, evoking a deleted dream sequence from Fear and Loathing in Las Vegas.
Previous single A Sun / Ahh Ahh increases the glorious detachment, half steady space march, half saxophone-catalysed Mexican desert drug flashback, metamorphosing through shamanic chants into a climatic conclusion that cuts out instead of fully cutting loose. It's a peak only rivalled when the sax returns on epic closing freakout Distant Airways, synapse-frazzling squeals finally dissipating into eerie ambience, leaving you mentally exhausted yet unable to wipe a goonish grin from your face." (Adam Kennedy,
BBC Review
)
----------------------------------------------------------------------------
"This album makes me wish I was about sixteen again. Not for any great ideological or philosophical reason, it's just that when I was sixteen years old I was a right little tearaway and wasn't exactly a stranger to the delights of what is carefully known nowadays as the 'jazz cigarette'. Sixteen year old me would have loved to whack this album on loud after an evening on the Devil's puff, and I think that's part of what 23 year old me likes so much about it.
Of course, the fact that in places this could be a Black Sabbath album circa 1970 probably doesn't hurt at all, Although quite often just as you think you've got a handle on what's going on, there's a saxophone part, or some lush jazz harmonies floating over the top of a metal riff. Brothers Caleb and Ashton have succeeded in creating a sonically rich and audibly thick slab of gold on this album, and it's astonishing just how many influences you can hear on the record. Primus' 'Brown Album' is invoked just as quickly as Black Sabbath and every other band in the 70s that pioneered that psychedelic sound so often aped nowadays, but rarely done as well as Tweak Bird have managed.
Of course, the album can occasionally suffer from the same problem that many stoner/psychedelic albums do: At times, it can be hard to tell the difference between the tracks, such are the grooves and keys they tend to follow. While this isn't necessarily a bad thing, it does mean that there isn't a single 'standout' track - but that's not to say the entire album isn't great, if a little short. The whole thing clocks in at under 40 minutes, and I find that it feels like it's finishing before it started. Now, I know that you should always leave them wanting more, and I do admire the band for essentially arriving, stomping your brain into mud and then simply walking away, but depending on the price point, ten tracks (Of which a couple are filler "intermissions") could seem like somewhat of a rip-off.
With those two minor gripes out of the way, allow me to reiterate something: I bloody love this album, and so should you. It's just poppy enough to sing along to, just metal enough to headbang to, and just jazzy enough to confound all your expectations without even trying" (Chris Spann,
ContactMusic.com
)
Tweak Bird - "Lights In Lines"
from
Mog Dotcom
on
Vimeo
.
MySpace

/

Website

/Buy