The "New Band To Burn One To" today is The Arctic Sleep. They are from the state of Illinois and as their MySpace page suggests sounds like "Sunn o))) and Phil Collins mixed together."
"Arctic Sleep creates slow-paced, melodic, spacious soundscapes that dramatically drift between quiet, beautiful stargazing and infinite, hypnotic loudness. Ghostly, whisky-soaked vocals and dreamlike lyrics lurk above a swamp of slow-motion drumming and down-tuned riffing to create an almost psychedelic atmosphere designed to drift the listener far away from reality."
They have just released a new album entitled "Abysmal Lullabies". This is the second full-length Arctic Sleep album. This is a solo effort entirely written, performed, and produced by founding member Keith D.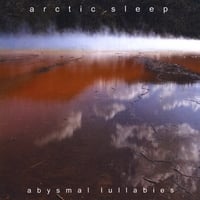 Review:
"This recording further demonstrates Arctic Sleep's signature sound of sluggish tempos, a super-heavy rythm section, down-tuned riffing, and whispery vocals all weaving a series of dynamics ranging from quiet, contemplative moments of introverted vulnerability to cosmic waves of absolute, monolithic loudness... all done with a keen sense for hooky melodies. With this release, the music reaches further beyond the constraints of any genre of heavy music, incorporating more acoustic arrangements, more psychedelic droning passages, and cello. As with Arctic Sleep's previous work, the lyrical themes continue to be rich with imagery of nature and space, all hazed with a looming atmosphere of sweet sorrow."
Tracklisting:
01. Pacific Eclipse
02. Lunar Hollow
03. Oblivion
04. Nightwatch Elegy
05. Ghost Lights
06. Candlesmoke
Total playing time of 48 minutes.
Buy from
CD Baby
For more information on the band go to their
MySpace page
.